[et_pb_section bb_built="1″ fullwidth="on" specialty="off"][et_pb_fullwidth_header _builder_version="3.0.53″ title="Aerial Silks" subhead="Come Join The Fun!" logo_image_url="https://oaagym.ca/wp-content/uploads/2017/09/landing-page-oaa-acrobatics-pickering.png" background_overlay_color="rgba(0,0,0,0.61)" background_image="https://oaagym.ca/wp-content/uploads/2017/09/silks-oaa-acrobatics-gymnastics-pickering.jpg" parallax="on" text_orientation="center" header_fullscreen="on" header_scroll_down="on" image_orientation="center" background_layout="dark" content_orientation="center" custom_button_one="off" button_one_letter_spacing="0″ button_one_icon_placement="right" button_one_letter_spacing_hover="0″ custom_button_two="off" button_two_letter_spacing="0″ button_two_icon_placement="right" button_two_letter_spacing_hover="0″ title_font="Droid Sans|on|||" title_font_size="56px" subhead_font_size="33px" subhead_font="Droid Sans|on|||" scroll_down_icon="%%10%%" /][/et_pb_section][et_pb_section bb_built="1″ admin_label="section" background_color="#0c71c3″ padding_mobile="off" width_unit="off" fullwidth="off" specialty="off" disabled="off" _builder_version="3.0.53″ custom_padding_tablet="50px|0|50px|0″ custom_padding_last_edited="on|desktop"][et_pb_row][et_pb_column type="3_4″][et_pb_text background_layout="dark" header_font="|on|||" header_font_size="41px" header_letter_spacing="2px" header_line_height="1.5em" text_font_size="21px" text_line_height="1.8em" border_style="solid" disabled="off" background_position="top_left" background_repeat="repeat" background_size="initial" _builder_version="3.0.87″ module_alignment="left" border_style_all="solid"]
Aerial Silks Gymnastics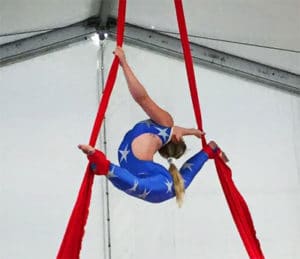 Youth, Teen and Adult Aerial Program uses various aerial apparatus including: silks, straps, lyra (hoop) and static trapeze to showcase artistic movement patterns that demonstrate strength and flexibility. These apparatuses are widely used in circus performance for its unique artistry and acrobatics.
[/et_pb_text][et_pb_text _builder_version="3.0.87″ background_layout="light" text_line_height="2em"]
Let us know if you are interested, or visit our website for more information! Our gym is located in Pickering, Ontario.
[/et_pb_text][/et_pb_column][et_pb_column type="1_4″][et_pb_contact_form admin_label="Aerial Page" captcha="off" email="info@oaagym.ca" title="I'm Interested!" use_redirect="off" success_message="Thank you for contacting us. We will get back to you as soon as possible." input_border_radius="0″ module_id="et_pb_contact_form_0″ title_font="|on|||" title_text_color="#ffffff" border_style="solid" custom_button="on" button_text_color="#ffffff" button_icon_placement="right" disabled="off" _builder_version="3.0.87″ custom_css_main_element="color: #fff" title_font_size="30″ border_radii="on|0px|0px|0px|0px" border_style_all="solid"] [et_pb_contact_field field_id="Name" field_title="Name" field_type="input" required_mark="on" fullwidth_field="on" disabled="off" checkbox_checked="off" min_length="0″ max_length="0″ allowed_symbols="all" conditional_logic="off" conditional_logic_relation="off" conditional_logic_rules="%91{%22field%22:%22email%22,%22condition%22:%22is%22,%22value%22:%22%22}%93″ form_field_font_select="default" form_field_font="||||" use_border_color="off" border_style="solid" /][et_pb_contact_field field_id="Email" field_title="Email Address" field_type="email" required_mark="on" fullwidth_field="on" disabled="off" checkbox_checked="off" min_length="0″ max_length="0″ allowed_symbols="all" conditional_logic="off" conditional_logic_relation="off" conditional_logic_rules="%91{%22field%22:%22name%22,%22condition%22:%22is%22,%22value%22:%22%22}%93″ form_field_font_select="default" form_field_font="||||" use_border_color="off" border_style="solid" /][et_pb_contact_field field_id="Phone" field_title="Phone" field_type="input" required_mark="on" fullwidth_field="on" disabled="off" checkbox_checked="off" min_length="0″ max_length="0″ allowed_symbols="all" conditional_logic="off" conditional_logic_relation="off" conditional_logic_rules="%91{%22field%22:%22name%22,%22condition%22:%22is%22,%22value%22:%22%22}%93″ form_field_font_select="default" form_field_font="||||" use_border_color="off" border_style="solid" /][et_pb_contact_field field_id="Message" field_title="Message" field_type="text" required_mark="on" fullwidth_field="on" disabled="off" checkbox_checked="off" min_length="0″ max_length="0″ allowed_symbols="all" conditional_logic="off" conditional_logic_relation="off" conditional_logic_rules="%91{%22field%22:%22name%22,%22condition%22:%22is%22,%22value%22:%22%22}%93″ form_field_font_select="default" form_field_font="||||" use_border_color="off" border_style="solid" /] [/et_pb_contact_form][/et_pb_column][/et_pb_row][et_pb_row][et_pb_column type="4_4″][et_pb_text _builder_version="3.0.87″ background_layout="light"]
[/et_pb_text][/et_pb_column][/et_pb_row][et_pb_row][et_pb_column type="4_4″][et_pb_text _builder_version="3.0.87″ background_layout="dark" border_style="solid" text_font_size="11″ module_class="landingLink" module_alignment="left" border_style_all="solid"]
OAAGym.ca | info@oaagym.ca | Privacy Policy
[/et_pb_text][/et_pb_column][/et_pb_row][/et_pb_section]