OAA day camps are offered throughout the year on PA Days, March Break and for various weeks throughout the summer for athletes aged 4 and over. Our camps take place in our facility featuring four Olympic sized trampolines, a power track, sprung floor, double-mini and aerial apparatuses.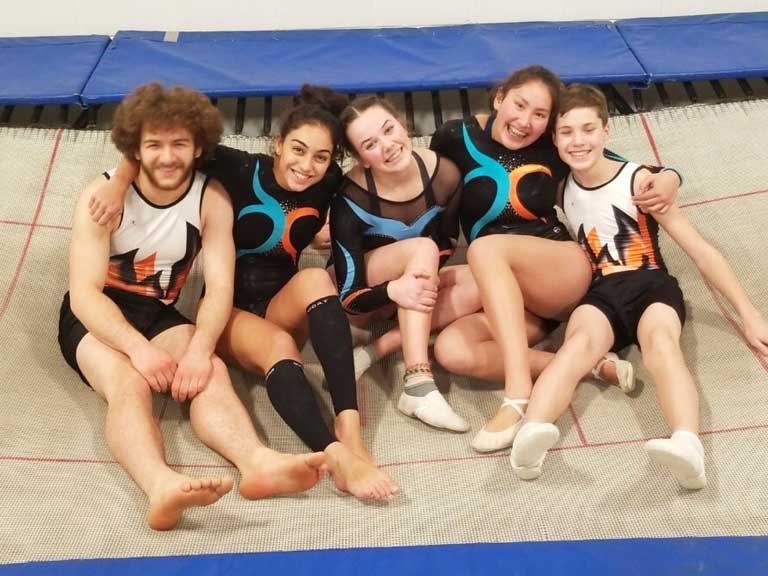 Throughout the day, athletes are taught valuable skills as they rotate across apparatuses in gymnastics, tumbling, trampoline and aerials with our certified coaches. This training is accompanied by themed crafts, movies, day outings and tons of fun. Each camp day will offer snack breaks in the morning and afternoon, as well as a lunch break.
Registration for summer camp 2020 is now open! We're so excited to welcome campers back to the gym for a fun and active summer! See below for more information. Contact info@oaagym.ca with any questions you have.
March Break and Summer Camp runs from 9 a.m. to 4 p.m. for the entire week. Campers can also join our program for individual days throughout the week or half-days. Before and after care are available.
Summer Camp 2020
Each week of camp will feature daily trampoline and tumbling training with certified coaches across our Olympic sized trampolines, power track, double-mini trampoline and sprung floor. Each week will also feature a special day corresponding with the week's theme along with crafts, camp games and lots of fun!

Age: 10+ (for skill camps), 6+ (for full day summer camp), 4+ (for half day summer camp)
Summer Camp Weeks:
Skills Clinic Week 1: July 13 – 17 (9:00am – 12:00pm Monday to Friday)
Summer Camp Week 1: July 20 – 24 (Animal)
Summer Camp Week 2: July 27 – 31 (Circus)
Skills Clinic Week 2: August 4 – 7 (9:00am – 12:00pm Monday to Friday)
Summer Camp Week 3: August 10 – 14 (Sports)
Summer Camp Week 4: August 17 – 21 (Hollywood)
Summer Camp Week 5: August 24 – 28 (Science)
Cost:
$209 + HST Per Week of Skills Camp and Summer Camp
* There is also a daily rate ($49 + HST) and a half-day rate ($29 + HST) available for summer camp weeks.
Before & After Care: Free of Charge (8:30am – 4:30pm).
Sibling + Multiple Week Discount: Receive a 25% discount when you sign up for multiple full weeks of camp!
PA Day camps run from 9 a.m. to 4 p.m. throughout the year in correspondence with the local school board calendars. Our camps feature themed crafts, camp games as well as training in tumbling, trampoline and aerials with certified coaches.